Kenyan Projects, 2007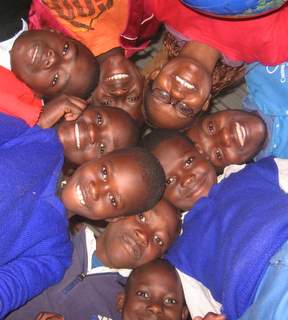 Learning is fun!
During 2007, Cosmos Education Kenya, with support from local volunteers and other CE branches, carried out several projects. Our method is working from the ground up - reaching individual students and teachers by being effective in the classroom. Our model is grassroots development within a community; we want the youth in developing regions of the world to decide how their nations should develop.
In order to do this, the youth must understand the rapidly changing world around them. They must be inspired, empowered, and engaged in their education. Our goal is to encourage children to ask the questions that will drive development from within.
The activities are summarised here, and more detail is available on the Cosmos Education Kenya blog.
Professional Insights
Role models are a useful source of inspiration for young people, and are often hard to come by. For most young people, the only adults they know are teachers at their school, and their own family members. This may not give a suitable awareness of the wide range of opportunities available to those who are willing to study and work hard.
That is why the Professional Insights programme was started. Cosmos Education team members have invited a series of speakers to visit high school students in Nairobi. The speakers are each in a different profession, and are able to give a description of what they do, why it is exciting to them, and what qualifications and skills they needed to get there. The students make good use of the question and answer session at the end of the talks to get a deeper insight, and all seem to be thoroughly inspired by the experience.
Although the speakers do not all work in obviously technical professions, they all seem to need good critical thinking skills and an understanding of how the world works.
Engineering Challenges
The "Chemsha Bongo" Engineering Challenges were conceived as a series of sessions that encourage critical thinking and the power of team work. 3rd and 4th year students at a Nairobi high school were given the schedule for the challenges for the whole semester and the Cosmos Education team, together with the students, considered their expectations for the project.
Top on the list from the students was that they expected to learn new things and strengthen their team work ability. As Cosmos Education, our expectations were that we hoped to empower the students to be able to think critically and creatively, and learn to build on each others abilities.
The activities have included building spaghetti structures, pouring water without touching the container, and rescuing an egg from the ceiling.
An egg waits to be rescued...
These tasks are quite different from the sorts of learning normally carried out in school, and give the students a good opportunity to apply their knowledge and imaginations in new ways.
Holiday Science Learning Camp
In August, 2007, Cosmos Education Kenya decided to run a week of activities during school holidays. With volunteers from Kenya (including professional teachers) and another from the USA, a programme of hands-on experiments and challenges was carried out at a primary school in Nairobi. Around 100 young students came to have fun and learn.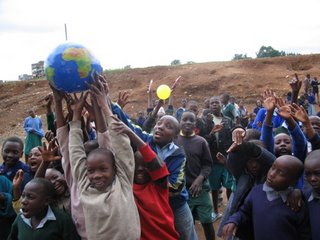 Students model the solar system.
Over the course of the camp, students explored physics, chemistry, health, biology and much more. The learning was fun and informal, designed to build an instinctive understanding of the topics, and to ignite a desire to know more.